The oldest part of Dubai, Bur Dubai, is where it all began. The city's original hamlet was located here, to the west of Dubai Creek, long before Dubai evolved into an urban metropolis.

It is still a center of residential and commercial activity today, maintaining the kind of communal generosity that is a hallmark of Emirati culture.

Almost all of the original Dubai that was left after the city's rapid development in the 1960s and 1970s can be found here.

Additionally, some of the area's historic waterfront still has a charming collection of sand-colored buildings and a distinctly Arabian skyline punctuated by dozens of wind towers and the occasional minaret.

Whether you are new to Dubai or relocating to Bur Dubai, we have formulated this Bur Dubai area guide to help you get to know the area better.

Exact Location of Bur Dubai
Bur Dubai is situated on the western side of Dubai Creek. The phrase "Mainland Dubai" refers to Dubai Creek's historical division of the Bur Dubai neighborhood from Deira.

Along with being a bustling business district with a variety of stores, eateries, and entertainment venues, it is also a well-liked residential neighborhood with older and newer structures.

The Astonishing Infrastructure of Bur Dubai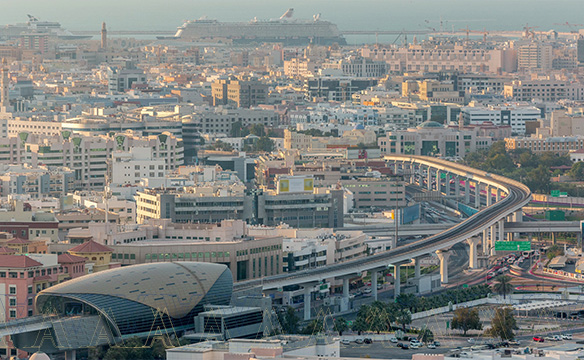 Bur Dubai is a well-developed neighborhood with up-to-date amenities and infrastructure. The district has excellent transit connections to the rest of Dubai, including the Metro, buses, taxis, and water taxis.

The district's residents have access to several high-quality medical facilities in Bur Dubai, including the Dubai Hospital and the Aster Hospital. As a result, Bur Dubai is a fantastic spot to reside in an apartment.

Attractions and Things to Do in Bur Dubai
Bur Dubai, which boasts a broad variety of historical and heritage landmarks, including the Al Fahidi Fort and Dubai Museum, has seen the city's fast growth over time. Residents will see both brand-new, contemporary buildings and decades-old businesses.

The region is home to a number of hotspots, including souks, dhow cruises, international eateries and cafes, and the most recent tourist draw, the Dubai Frame. The Ruler's Courts and other local government agencies, as well as a good variety of other amenities, can be found in this neighborhood.

Al Fahidi Historical Neighborhood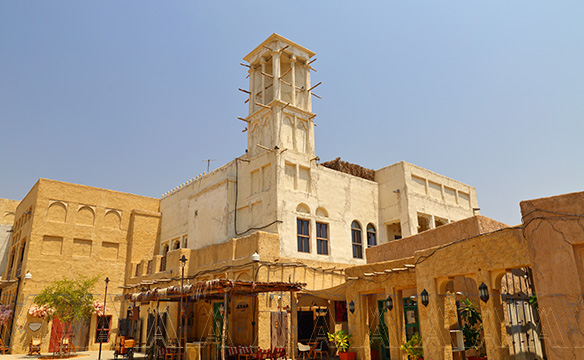 One of the last remaining areas of Old Dubai, where numerous traditional-style buildings have been rebuilt. Although there is little information on the buildings (see the museum instead), the area is still extremely atmospheric, and there are many charming art galleries and cafes to visit.

Old Souk Bur Dubai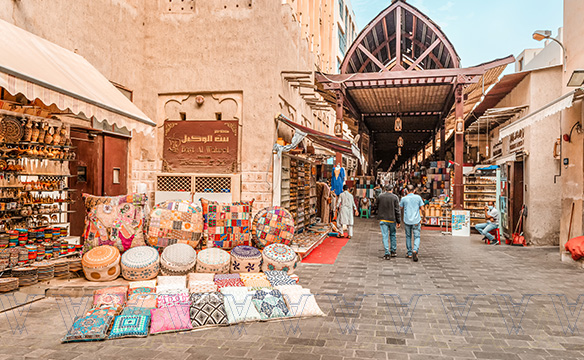 Bur Dubai's Old Souk, also known as the Textile Souk, is an ancient market district that has been restored. The bazaar is home to numerous clothes and jewelry stores with arched wooden roofs.

Formerly the most significant market, the textile souk is now controlled by Indian traders who sell saris and other touristy goods. The fact that there are no set prices at this bazaar and that you can haggle to get the greatest deals is its best feature.

Sheikh Mohammed Center for Cultural Understanding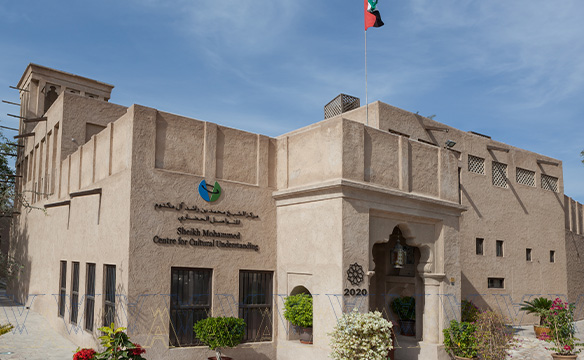 This is the ideal location to go if you want to discover and comprehend UAE cultures and traditions. The Center offers cultural meals with discussions of UAE culture, customs, and religion for between 70 and 95 AED.

Meena Bazaar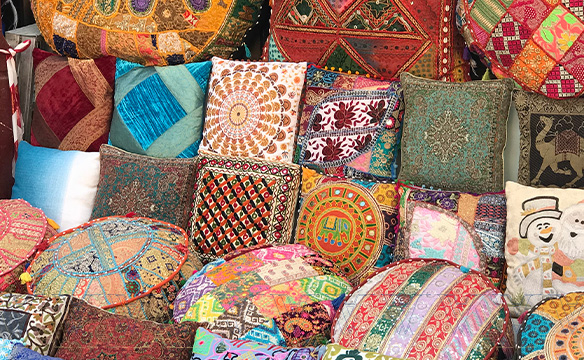 The Meena Bazar is situated on the eastern side of Al-Fahidi Street. This is a well-known shopping district in Dubai, where a wide variety of stores provide handicrafts and traditional clothing.

The original shop, which was at the entryway and opened in 1973, gave the store its name. With its lively storefronts and historical surroundings, Meena Bazar—often referred to as "Little India"—transports you back in time.

Dubai Museum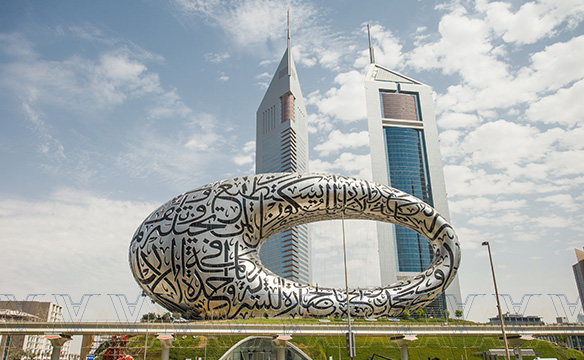 Visit the Dubai Museum to see vibrant dioramas, educational and historical artifacts. The oldest building still standing in the city, housed in the Al Fahidi Fort, is a must-see if you want to experience Dubai as it once was.

Before being refurbished during the rule of Sheikh Rashid bin Saeed Al Maktoum, this fort served as the monarch's base, a fortified house, a weapons arsenal, and a prison. It was constructed in 1787.

Grand Mosque Dubai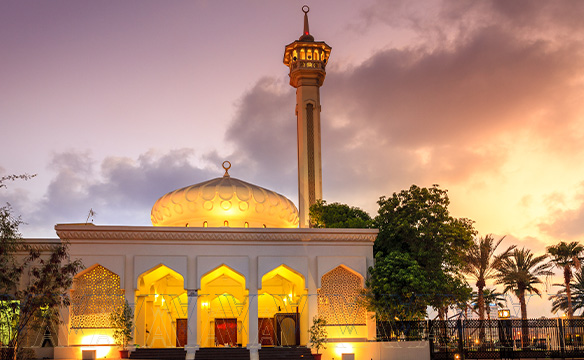 One of the most well-known mosques in the city is the Grand Mosque Dubai, commonly referred to as the Grand Bur Dubai Masjid. The mosque is the pinnacle of beautiful construction and recognizable style.

The mosque was first constructed in 1900 as a "kuttub" before being converted into a mosque in 1960. It boasts sand-colored walls and one of the highest minarets in Dubai (70 meters). The Iranian Mosque in Bur Dubai is renowned for its stunning Iranian architecture and elaborate tilework in addition to the Grand Mosque.

Eateries and Shopping Activities in Bur Dubai
Bur Dubai is a sanctuary for foodies. Dine in the Al Fahidi Historical Neighborhood's cafés hidden away in peaceful courtyards, or shop at Dubai's Little India's bustling Meena Bazaar, where ethnic restaurants serve delicious curries bursting with flavor. Once you've gotten your fill, take a leisurely trip on an Abra, a traditional wooden canoe that has been navigating the creek for decades.

In this area, there is a beautiful variety of independent clothes and jewelry stores to discover, many of which are run by owners who have made Dubai their adopted home over many years.

Stock up in the Textile Souk, where enthusiastic vendors offer colorful embroidered pillows, exotic fabrics, and pashminas. Next, locate a nearby tailor to construct a custom outfit.

Educational Facilities in Bur Dubai
In Bur Dubai, there are numerous schools that provide international curricula like the UK National, CBSE, American, and even French curricula.

Bur Dubai parents have a wide range of educational options. For parents of smaller children, Bur Dubai is home to some of the greatest nurseries in the region. In the neighborhood, you may find the Hope Montessori Nursery, Chubby Cheeks Nursery, British Orchard Nursery, and more.

The Indian High School, which teaches the National Curriculum of India from Years 5 to 12, is one of the most well-liked options for high schools. Multiple times, the KHDA (Dubai's government evaluation of schools) has given it an outstanding rating.

The UK-based choices available in Bur Dubai include the St. Mary Catholic High School, GEMS Winchester School, and Dubai Gem Private School.

Mohammed Bin Rashid University of Medicine and Health Sciences is located in Dubai Healthcare City and is a prestigious choice for older kids wishing to attend college. On the other hand, Bur Dubai has excellent access to both of Dubai's academic centers.

It takes 25 minutes to go to Knowledge Park and Dubai International Academic City from Dubai Silicon Oasis.

Hotels and Accommodations in Bur Dubai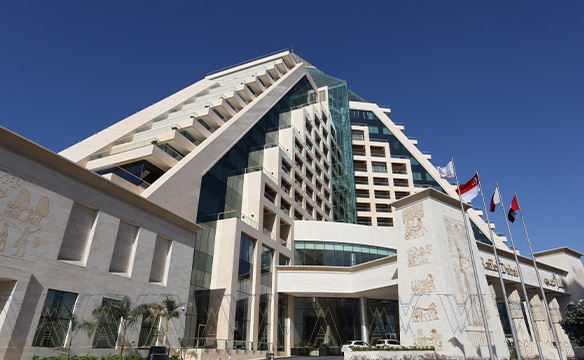 Bur Dubai is a prominent place for numerous hotels due to its excellent location. The following are some of Bur Dubai's top hotels:
- One of Dubai's top five-star hotels is Raffles Dubai. It is close to the Oud Mehta neighborhood. For its visitors, Raffles Dubai provides large rooms and suites with a variety of amenities. It's strongly suggested to indulge at the Raffles Spa.

- One of Dubai's first five-star hotels is the Grand Hyatt. The hotel is close to the Sheikh Rashid Road (E11) expressway and close to Dubai Healthcare City. The Grand Hyatt Dubai offers 13 dining options, three pools, 682 guestrooms and suites, and much more.

- Another five-star hotel in Dubai, Hilton Garden Inn Al Jadaf Culture Village, has 326 guest rooms and suites. The hotel also offers a fitness center, meeting spaces, an outdoor pool, and plenty of parking. The Al Jaddaf Metro Station is nearby.

- A 5-star hotel near the Dubai Museum, Dubai Creek, and the Dubai World Trade Center is the Park Regis Kris Kin Hotel. The hotel's Kris with A View Restaurant, which provides expansive city views, is a well-known hotel here.
Other famous hotels in Bur Dubai include Palazzo Versace Dubai and XVA Art Hotel.

Properties for Rent in Bur Dubai
Families looking for upscale living may discover a peaceful and welcoming lifestyle in Bur Dubai's affluent residential district.

Families of various sizes can live happily in the four- and five-bedroom villas and flats in the area. The residences are arranged amid tree-lined lanes, giving the neighborhood a serene and lovely atmosphere.

One of the best places to rent an apartment in Bur Dubai is Ahmad Creek Residence. It has all the basic as well as modern amenities. It is close to well-known locations, including Burjuman Mall, Al Seef Dubai Creek, the Dubai Gold and Spice Souks, and the Dubai Museums.

The area is well known for its lavish amenities, which include private beach access, a neighborhood fitness center, and a number of pet-friendly green spaces. The marina, private beach, and fitness center allow residents to live in luxury. The availability of parking spaces and 24-hour security are additional crucial elements.

Al Jaddaf and Al Kifaf are neighborhoods in Bur Dubai that feature villas and townhouses. As a result of their inclusion in the developments envisioned for these sites, these homes will be furnished with contemporary conveniences and amenities.

The neighborhood offers commercial premises for sale and rent in addition to residences. Investors that are interested in buying retail space in Bur Dubai can do so, with prices varying according to the location and service area of the store.

Office space is available for purchase or rental in Bur Dubai at the Business Center Bur Dubai on Sheikh Khalifa Bin Zayed Street.

FAQs
Why is Bur Dubai famous?
Bur Dubai is a location famous for its numerous historical landmarks. The oldest structure in Dubai is also located in this neighborhood. Numerous mosques, temples, and other sightseeing locations can be found.

Most of the time, you won't need to leave the neighborhood because almost everything you need is nearby.

Is Bur Dubai a good area?
Yes, residents enjoy being a part of a vibrant neighborhood with easy access to amenities, including parks, shopping centers, and schools. One of the most well-liked neighborhoods among ex-pats from the subcontinent and other Asian nations is Bur Dubai. There are a variety of apartment buildings, motels, and roomy villas there.

What is the difference between Deira and Bur Dubai?
The older section of the city, with classic Middle Eastern architecture, is on the Bur Dubai side. Greater modernity and numerous towers can be found in Deira Dubai.

How far is Bur Dubai from the airport?
Bur Dubai is 6 kilometers from Dubai Airport (DXB).

How far is Bur Dubai from Mall of Emirates?
Bur Dubai is located 18 kilometers from Mall of the Emirates. There are 20.2 kilometers of road. It generally takes 25 to 30 min to reach Mall of Emirates.

Where is the best place to live in Bur Dubai?
The Ahmad Creek Residence is the best place to live in Bur Dubai. It is situated in the heart of Dubai's historic and cultural district. It is close to the busiest government and commercial buildings, consulates, embassies, and banks.

The city's most well-known locations are accessible from Burjuman Metro Station, which is a minute's walk from the residence and serves as an intersection of the green and red lines.

Are there any beaches in Bur Dubai?
No, Bur Dubai, being an urban district in Dubai, does not have any beaches within its immediate vicinity. However, several stunning beaches can be found in other areas of Dubai, such as Jumeirah Beach, Kite Beach, and Al Mamzar Beach Park, which are easily accessible from Bur Dubai.

What are some cultural events or festivals that take place in Bur Dubai?
Bur Dubai is renowned for its rich cultural heritage and vibrant festivities. The district hosts several notable events and festivals, including the Dubai Shopping Festival, Dubai Food Festival, and Al Fahidi Cultural Festival. These celebrations showcase traditional arts, music, dance, and culinary delights, offering a captivating glimpse into the diverse cultural tapestry of the region.

Are there any historical landmarks or buildings in Bur Dubai?
Some recognizable structures, including the Wafi Mall and Dubai Frame, may now be found in Bur Dubai. There are plenty of other attractions to visit, including the numerous malls and the Dubai Museum, which is close to the Grand Mosque and the temple.

Wrap Up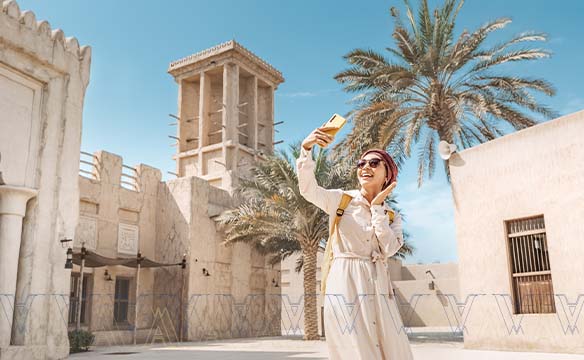 Thanks to the main roads and adequate public transportation, many other districts in Dubai are conveniently reachable from Bur Dubai, whether you like to commute or own and drive a car.

Parents and kids can still live a calm and safe existence in the district. The Zabeel Park is a well-liked weekend getaway spot for couples and families, and the majority of new buildings have 24-hour security and playgrounds for kids.

Bur Dubai is renowned for its great cuisine and unique dining establishments. The residences with the typical barjeel winds towers were a product of their own vision and are currently used as art galleries and museums. Bur Dubai is thus among the most popular tourist destinations in Dubai.

If you are looking to rent an apartment in Bur Dubai, Ahmad Creek Residence can be the best option for you. Get in touch with our real estate agents to rent a property in Bur Dubai with 0% commission on rent.