DXB Interact is the ideal destination for anyone interested in learning about Dubai's real estate market. This online portal offers real-time data about sales and rental transactions and detailed market information for different areas of Dubai. Whether you are a first-time investor or a seasoned pro, DXB Interact will provide you with all the information you need to make sound decisions about your real estate investments. DXB Interact has collaborated with DLD (Dubai Land Department) to ensure that the information provided is completely transparent and up to date—allowing you to invest confidently and enjoy effortless ROI. The reports can also be downloaded, printed, and shared. This is why real estate professionals in Dubai rely on DXB Interact.

Whether you are looking to buy a luxurious apartment in Downtown Dubai or an incredible off-plan investment opportunity, you can easily find market information by location, price, type, and other criteria at DXB Interact. The platform has the appropriate information you need to make a safe investment.
To get started, go to DXB Interact, and download the mobile app from your preferred app provider so you can analyze critical property market data on the go.

DXB Interact App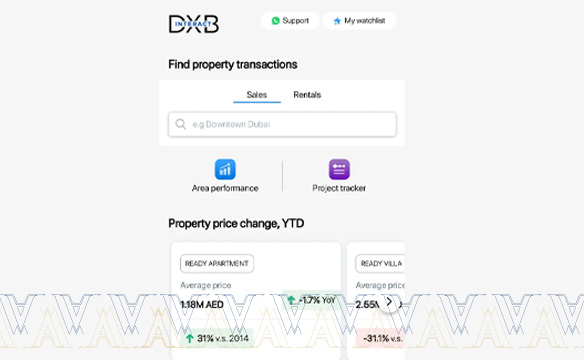 After downloading the app, register and explore endless possibilities at your fingertips.

Market Insights:
Amidst countless opinions, you can now know whom to trust. The app gives users unrestricted access to real estate market data sourced directly from the Dubai Land Department (DLD).
This smart app allows buyers to learn about every sold property in a project or area. You must go to Trends by Area and use advanced search filters to find the project or place of interest. It will give you detailed information about every sales transaction of interest, such as the price per square foot, total cost, unit size, and date. It will also indicate whether the transaction was a mortgage or cash. The app also allows you to share transactions through any medium. You can also create a watchlist by selecting projects you want to monitor closely.

Purchasing real estate has always been challenging and stressful.
Users can also get expert advice from a team of Property Consultants who have years of market experience and specialize in different market segments.
It keeps you updated on the latest offers and project construction progress updates, as well as about Dubai Property Supply, payment plans, and more.

Key features include:
- Customized Watchlist Interactive Location Maps WhatsApp Chat In-App Call and Email
- Offers on Real Estate
- Contact a Real Estate Consultant

Preferences

:
- Currency
- Unit Metric - Sq.Ft. and Sq.m

How to Use DXB Interact in Discovering Dubai's Real Estate Market Transactions?
It gives you information about the real estate market performance year to date by providing the following:
1- Sales Volume.
2- Sales Value.
3- Real Estate Price Change per sq. ft. YTD.
4- Dubai Real Estate Investment Map.
5- Dubai Real Estate Market Yearly Report.
6- Dubai Real Estate Market Monthly Report.
7- Dubai Real Estate Market Quarterly Report.

Best Areas to Invest in Dubai Real Estate Market 2023
Dubai's real estate sector performed admirably in 2022, with sales exceeding up to AED 70 billion. That has indeed made history in Dubai's real estate market. This also highlights the fact that demand for properties is increasing in Dubai, and investors from all over the world are showing a keen interest in Real Estate investment in Dubai this year.
Here are the best areas with higher sales volume that you should pay attention to.

Palm Jumeirah
Palm Jumeirah, the world's first artificial archipelago, is experiencing high residential demand. As a result, buying units in this archipelago is a popular investment option among both investors and end-users.
Investors worldwide can invest their money in Palm Jumeirah due to its unique location and variety of property options. The most common residential types in the area are villas, townhouses, and apartments. However, studio apartments and five-bedroom flats are available in various configurations if you want apartments.

There are 1-7-bedroom villas with plenty of private amenities available in various sizes. Palm Jumeirah offers a diverse range of villa properties.
This artificial island has private beaches, plenty of shopping and dining options, and many cutting-edge amenities.

Dubai Marina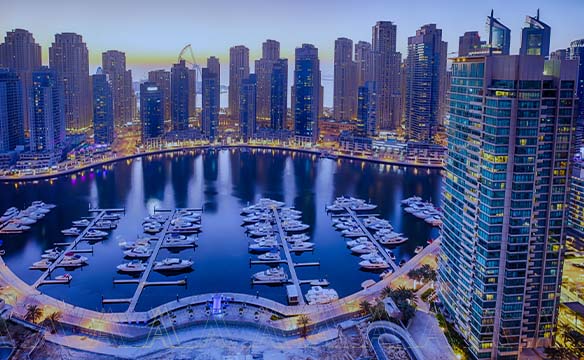 Life at Dubai Marina is like living in a dream; the area is famous for waterfront real estate. Because of the abundance of amenities, facilities, and entertainment options in the area, it ranks first for property investment. It has over 200 multipurpose residential towers. Investors will find apartments, villas, and townhouses with excellent amenities and facilities.

End-users will have an unusual experience in Dubai Marina because the area is close to the sea and a large canal. As a result, you can enjoy the waterfront view and take a yacht ride.

Downtown Dubai
Downtown Dubai is Dubai's most affluent neighborhood, containing lifestyle, luxury, amenities, and natural wonders. It's a family-friendly (and pet-friendly) community known for its luxurious lifestyle. Downtown Dubai is desirable because it is close to important business districts such as Business Bay, Dubai Design District, and DFIC.

Jumeirah Village Circle (JVC)
Jumeirah Village Circle is a mixed-use development. The community has 2,000 residential units, including apartments, townhouses, and villa houses. This master community provides affordable property options, making it one of Dubai's most popular investment areas. It's a bustling metropolitan community with a diverse range of properties.
JVC is surrounded by a natural landscape that adds a sense of calmness to the community. Residents at JVC have various property options including studios, apartments, and villas in multiple configurations.

Jumeirah Beach Residence(JBR)
JBR is one of Dubai's most recognizable communities due to its beautiful beachfront location and abundance of world-class hotels. Tourists flock there yearly.
JBR is one of the best places to look for luxury apartments in Dubai. The Walk and Bluewaters offer numerous excellent dining options and numerous high-quality facilities.

Take a look at this building at JBR:


JAM Marina Residence is a 39-story residential building that offers stunning panoramic Marina canal and city views. Public transportation is available within the vicinity, such as the Dubai Metro Station, Tram, Various landmarks, high-end dining restaurants, and luxurious shopping malls are in the area. The location has gained the reputation of being the city's most trendy and happening district with attractiveness to reside. Dubai Marina Mall is just 800 meters away from the tower.

Read more: Best areas to rent in Dubai

Invest in Dubai Real Estate Market
Al Majid Real Estate LLC, one of Dubai's leading real estate companies, offers extensive residential and commercial rental options.
Contact us today to find the best apartments for rent in Dubai with a 0% rental commission.