Living in the United Arab Emirates is the dream of many people. Although Dubai is grabbing the attention of numerous people to live and work in, but Abu Dhabi has always been one of the most luxurious and modern cities for tourists to explore.

Abu Dhabi is considered a world-class destination for both tourists and emigrants as it expands between the sea and the desert with the original Emirati culture. These factors have helped the city to grow several communities suitable for living, whether as individuals or families. Moreover, it's a beautiful and affordable place to visit as a tourist. Thus, we will introduce you to ten significant places to view once you visit Abu Dhabi.


Which is The Best Area to Stay as a Tourist in Abu Dhabi?
1- Al Khalidiyah
Al Khalidiyah is a close suburb to Abu Dhabi's Corniche. It's considered the cultural hub of Abu Dhabi. Therefore, it's perfect for people who long for a place with a high value that presents a similar culture to the residents of the United Arab Emirates.
Al Khalidiyah is filled with dining and shopping options where you can easily find a good and distinctive place to try and live the experience. It also takes a few steps, and you will enjoy the walk in the Corniche area. If you plan to visit Abu Dhabi, you mustn't miss this area that combines old and modern cultures.


2- Khalifa City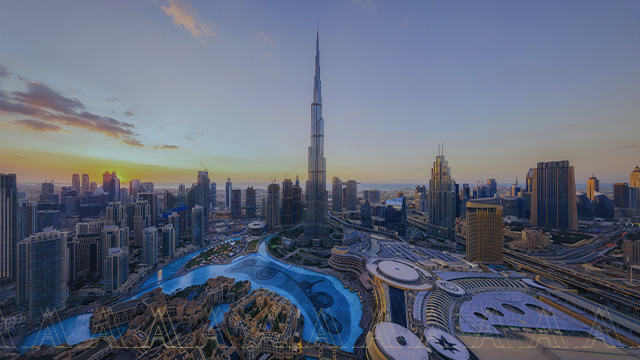 Khalifa City is located on the eastern side of Abu Dhabi, a 20-minute drive from Abu Dhabi city and 10 kilometers away from Abu Dhabi International Airport.
This area is distinguished by a community similar to Dubai, making it desirable for numerous expats, locals as well as tourists. Plus, you can enjoy the Dubai Marina that is just a 50 minute drive away. It's a quiet and peaceful environment with high standards related to services and facilities, such as the nearby parks and schools, and the city's location near Yas Island and Al Raha Island makes it very close to several entertaining activities.

3- Al Raha
Al Raha area is located in the northeast, about a 25-minute drive from the city center, and very close to Khalifa City and Abu Dhabi International Airport.
It's a beautiful area that offers you two great options, either by the gardens where you enjoy nature at its finest or by the sea in lovely green spaces. The waterfront area, or Al Raha Beach, combines three communities: Al Bandar, Al Zeina, and Al Muneera. Both Al Raha Beach and Gardens provide various studio apartments for rent in Abu Dhabi, in addition to golf and sailing clubs, to have the best time in this lovely place.
4- Al Mushrif
Al Mushrif is a suburb of Abu Dhabi city center located between Arabian Gulf Street and Sheikh Rashid Bin Saeed Street. This area is also only 30 kilometers away from Abu Dhabi's airport.
Al Mushrif includes numerous prominent Abu Dhabi landmarks, such as Mushrif palace and Umm Al Emarat Park, and several recreation places for families and individuals, such as parks, swimming pools, historical milestones, malls, and others. This area also has some of the best educational institutions in the UAE.

5- Abu Dhabi's Corniche
Abu Dhabi's Corniche is a lovely and secure area for people who wish to spend their time by the sea. It is situated on the northwestern side of Abu Dhabi and to the southeast of Al-Kasir neighborhood.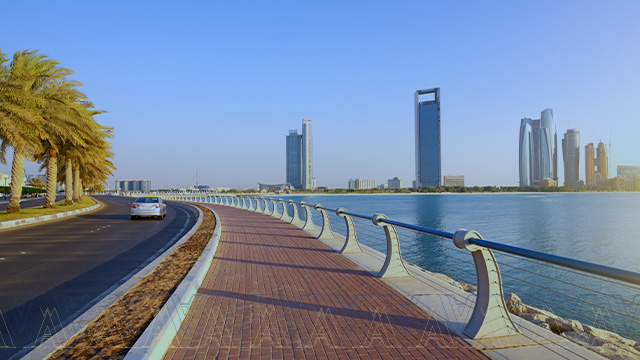 The Corniche area is equipped with a fast transportation network that connects you with the different parts of the city.
As for entertainment options and aside from the sea activities, you can also enjoy the Marina Mall, seaside cafes, and restaurants.

6- Mohammed Bin Zayed (MBZ) City
MBZ (Mohammed Bin Zayed) City is located in the southern part of Abu Dhabi, on Abu Dhabi-Al Ain Truck Road, and nearby those two cities giving it one of the most strategic locations in UAE.
Mohammed Bin Zayed City is your best option if you are looking for a lovely and safe community to spend time with your family and children. The city features a lot of high living standards, including the Abu Dhabi Art Hub, the Capital, and Mazyad Mall, in addition to restaurants, cafes, schools, and hospitals.

7- Al Maryah Island
Al Maryah Island lies northeast of Abu Dhabi, next to Al Reem Island to the west. The new vital central business hub gathers the business sector with luxurious residential options. The island is a financially free zone that provides commercial and community growth to the emirate.
Al Maryah Island is active, secure, and calm area with a modern lifestyle that you will enjoy spending time in even as a tourist. You will find everything you dream about on this beautiful island, including the Galleria and Al Maryah Central. Moreover, you will be very close to hospitals, cafes, restaurants, hotels, schools, and malls.

8- Al Reef
Al Reef is distinguished by its strategic location north of Abu Dhabi International Airport and east of Yas Island, making it one of the most popular areas in Abu Dhabi.
You can enjoy the lovely community and the modern lifestyle of UAE in one place, as it has two essential features, especially for people who live in Dubai and wish to visit this close emirate: first, you can reach Dubai easily with the fast transportation network, and second, it offers plenty of activities to enjoy on weekends.

9- Yas Island
Yas Island is situated 20 km east of Abu Dhabi city center, a 15-minute drive from Abu Dhabi Airport. This island is considered the world's second-largest manufactured island, including the UAE's largest theme park and the tallest roller coaster in the world. It's the perfect place for tourists, whether to settle for a short or long time, as the island includes numerous activities to discover.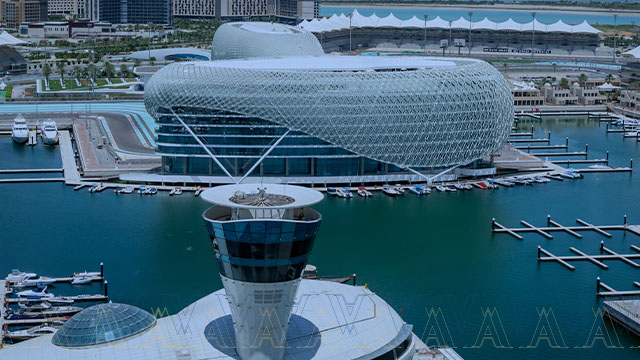 In addition to the numerous entertainment options, you can enjoy at Yas Island, you will find several features that will make you feel safe visiting it. Yas Island includes the best malls in the Emirates and beautiful attraction spots, including Yas Marina Circuit, which hosts numerous international events such as Formula One.
As for facilities, you can find several areas that will make you want to pay Yas Island a visit, like the beach, Warner Bros. World, the Dancing fountain, Marina, and many hospitals, schools, supermarkets, hotels, and parks. The transportation is also well-served as you can find bus stations to travel around the island and other parts of Abu Dhabi.

10- Tourist Club Area (Al Zahiyah)
What can be better for a tourist than finishing your work and having a calm and pleasant walk on the seashore? Once you choose to live in this area, your dream will turn into reality.
The Tourist Club Area is located in the northern corner of Abu Dhabi, northwest of Qasr Al Bahr. It's very close to the famous Corniche area, where you can find various activities and advantages to reside in Abu Dhabi.

This area features numerous relaxation and recreation facilities, including cafes, restaurants, malls, hotels, and hospitals, in addition to the well-known Al Muhairy Centre.
Looking for a 2 bedroom apartment in Abu Dhabi with 0% commission on rent? Get in touch with us today.