Al Quoz is a mixed-use district with residential and commercial sub-communities between Sheikh Zayed Road and Al Khail Road. Al Quoz's commercial sector is known as the Al Quoz Industrial Area, divided into four zones: Al Quoz Industrial Area 1, 2, 3, and 4.
Al Quoz Industrial Area, known primarily for its explosive industrial development, is a well-rounded and ideal location to rent a warehouse or an industrial building. The Dubai Municipality is still developing sub-areas within the commercial district for mass accommodation to create safe environments for labor camps.
The goal is to transform Al Quoz Industrial Area into an industrial hub that supports development projects such as Jebel Ali, Dubai Marina, and several hotels.

The area is close to residential neighborhoods like Al Barsha and Umm Al Sheif and commercial and financial hubs like Business Bay, Downtown Dubai, and World Trade Centre. Close to economic activity centers is a guaranteed benefit for any business, making business exchange and interaction with other companies much easier.

Benefits of Starting a Business in the Al Quoz Industrial Area
- Dubai's most sought-after industrial trade license locations.
- Warehouses come in a variety of sizes.
- Many car garages can be found in these areas.
- Many shopping centers can be found in these areas.
- It also includes labor accommodations.
- These areas also have villas and apartments for rent.
- Generally, it is regarded as a business setup in an industrial area suitable for manufacturing firms.

Al Quoz Industrial Area for Warehousing Requirements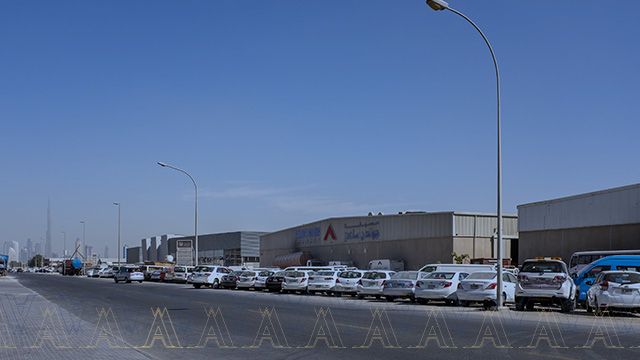 Al Quoz Industrial Area is one of Dubai's oldest manufacturing areas and is home to many companies and their factories. As a result, it is one of the most sought-after warehousing locations. It has the most conducive environment for production activities and worker housing, as well as storage space, and is dedicated to factory setup and labor housing. By company standards and parameters, the infrastructure designed for these services is best suited for manufacturing and storage.
A company looking to establish a manufacturing process should look for properties to rent to establish a factory, store any products that need to be stored, and place their employees in comfortable living conditions. This is highly convenient for the workers because they can live and work in the same area. Saving time and money on long commutes from an industrial area to a residential area and back will benefit both the company and the employees.

The warehouses in Al Quoz Industrial Area are of various sizes and configurations. Therefore, companies can select a warehouse based on size and facility needs.
Al Quoz is most popular among companies involved in manufacturing steel, aluminum, and other building materials. The availability of warehouses makes it simple for these businesses to establish factories. In addition, many companies in this area deal with contracting, vehicle repair, furniture manufacturing, and food distribution.

Amenities in Al Quoz Industrial Area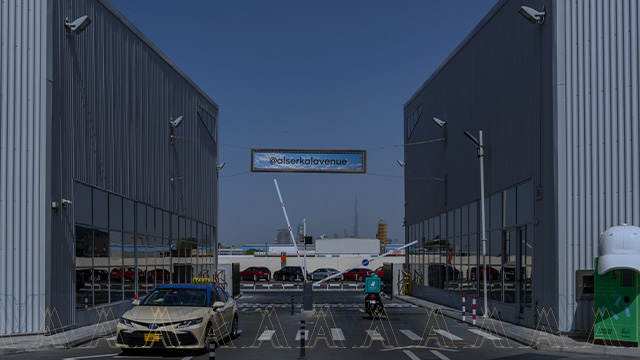 The area includes several supermarkets and groceries, including West Zone, a well-known supermarket chain throughout the city. The market sells high-quality foods, fresh fruits, vegetables, and items for home and personal use.
Dulsco Medical Clinic and iCare Blue Clinic are two nearby healthcare facilities. These clinics offer cutting-edge medical care. As they are close to the industrial units, employees can receive immediate care in case of an accident or injury. Working area residents also visit the clinics for minor issues. Burjeel Hospital for Advanced Surgery is a few minutes away by car for more advanced, multi-specialty care.
The area also has dedicated fitness clubs and gyms for those who want to maintain an active lifestyle. In addition, there are numerous jogging and walking trails nearby Al Quoz Pond Park.

All these necessary facilities make Al Quoz Industrial Area a well-balanced environment where residents can live and work comfortably.

Connectivity in Al Quoz Industrial Area
Al Quoz Industrial Area is already well-connected, located between Sheikh Zayed Road and Al Khail Road. In addition, the E11 and E44 highways allow car owners to travel easily throughout the city, making it especially convenient to reach other commercial districts such as Business Bay and Downtown Dubai.
Finding a parking space is not a problem, as most commercial buildings have designated parking spaces for their employees.
The public transportation system is complex and well-connected. The nearest metro stations to the area are the Noor Bank metro station and the Umm Al Sheif metro station on the Red Line. A metro link bus runs from the area to the stations to keep the zones connected, and several RTA buses also have routes within the area. In addition, air-conditioned bus stations are available at regular intervals throughout the area.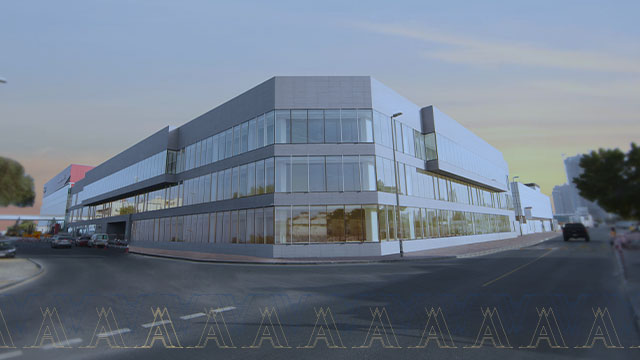 Rent a Warehouse Al Quoz Industrial Area
One of the best places to rent a warehouse or an industrial building is in Al Quoz. The environment's fast-paced and industrial nature is ideal for commercial renting. In addition, the area's ongoing development as a commercial and creative district will only make it a better, more ideal place to start a business from the beginning to the end.

So, if you want to rent a warehouse in Al Quoz industrial area, you need a real estate company to help you search for the best place for your business. Al Majid Property Co. LLC, one of Dubai's leading companies, provides extensive rental options.  
Take a look at these Commercial Building listings.
- Flagship Building, Al Quoz, Dubai.
- Al Muteena Technic Building, Al Muteena, Dubai.

Contact us today to find the most appropriate warehouse with a 0% commission on rent.