The United Arab Emirates has become an undeniable destination in Middle East tourism with an increasing tourist growth rate. As the beautiful jewel of the Emirates, Dubai invites tourists to an unrepeatable journey.
When you hear someone talking about Dubai, one of the many things that pop up in your mind is Burj Al Arab. This structure is not only very famous in terms of architecture, but most of all, its luxury services and entertainment attract tourists to the United Arab Emirates. For example, Burj Al Arab restaurant is the most luxurious and unique restaurant you can experience in Dubai. ‌Burj Al Arab pool is no less than that. These are just some of the activities you can do in this architectural masterpiece.

This beautiful tower, which opened in 1999, has since hosted the world's most famous people and has come to represent hospitality and high-quality life in the UAE. This tower, built on its island, offers guests the most beautiful view of the Arabian Gulf.
Therefore, in this blog, we will review Burj Al Arab Jumeirah, one of the most Dubai tourist places, and take a closer look at it.

Read more: Activity to Do at UAE: Burj Khalifa

Burj Al Arab Jumeirah: A Brief Background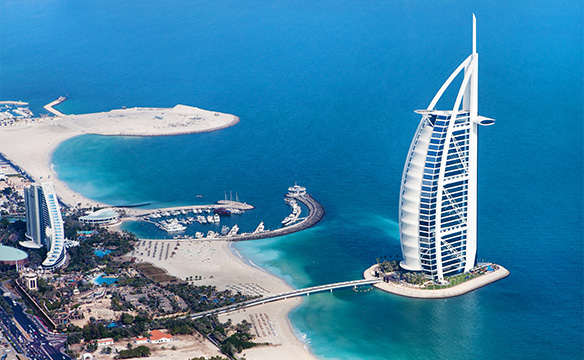 Burj Al Arab, which means the Arabian Tower, is one of the most famous buildings in the world located in the United Arab Emirates and the beautiful city of Dubai. One of the world's renowned architects, Tom Wright, designed this beautiful 321m tower.
This tower has the tallest all-suite hotel in the world. The handmade and exclusive island of this beautiful building promises visitors a remarkable, beautiful, and unique place. Many entertainments are available for visitors in and around this tower. Burj Al Arab restaurant, Burj Al Arab beach, Burj Al Arab pool, and high tea Burj Al Arab are only part of its attractions.

What Can We Do in Burj AL Arab?
Dubai tourism places are very varied. So that you will have other options in each area. The same rule applies to Burj Al Arab. You may be wondering how much does Burj Al Arab cost a night? According to booking.com, Staying in the Royal Suites of this beautiful hotel may cost you up to $24,000 per night. But the level of beauty and facilities of these rooms is so high that it will be worth it. However, if you don't want to spend this much, let's look at other activities you can do in Burj AL Arab.

Burj Al Arab Restaurant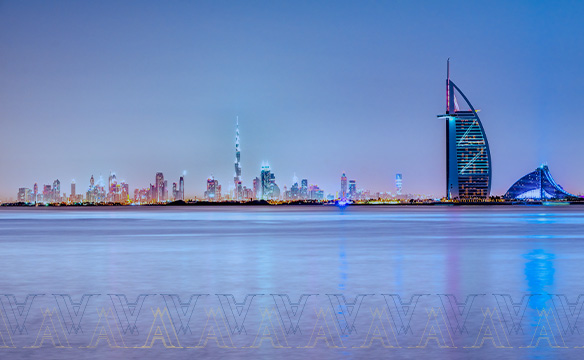 Burj Al Arab restaurant is one of the best options to visit and enjoy this beautiful tower. There are many restaurants in this tower designed for every taste. Al Muntaha, aquarium restaurant, Al Iwan Restaurant, Bab Al Yam, and Junsui are just some of these fantastic options. Al Muntaha, for example, is a beautiful international restaurant that brings together the best food in the world. With a view of the beautiful Dubai from the 27th floor and the chef's special menu, "Le Grand Petit Dejeuner," it will be your best travel experience.
Different types of cuisines are available in the restaurant. The breakfast hours are from 10:00 am to 3:00 pm, which is a good option if you like to have a late breakfast. Lunch and dinner can also be booked for all days of the week.
Al Mahara Aquarium Restaurant is also one of the dreamiest options to visit. As the name suggests, a restaurant with an aquarium view will complement your meal. This restaurant is located on the ground floor and is primarily famous for its seafood. However, you can also enjoy its appetizers and desserts.

Burj Al Arab Beach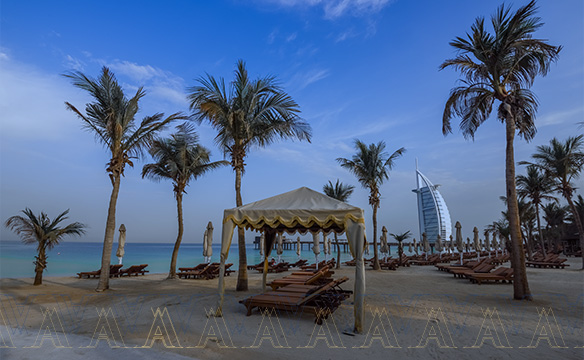 If you don't want to spend a lot, you might be happy to know that Burj Al Arab Beach is a public beach. Another name for this beach is Umm Suqeim Beach. This beach is one of the places where you must have a souvenir photo with Burj Al Arab. The desired space is quiet and peaceful and has a special place for children. Therefore, it is one of the best tourism in Dubai.

Burj Al Arab Pool
Like any other hotel, Burj Al Arab pool is one of the other places that you should not miss. For this purpose, you can use the day pass for a pleasant water sports experience and the swimming pool. The Burj Al Arab Terrace houses one of the most beautiful pools in the world. The design of the terrace is reminiscent of the deck of a ship. In addition, swimming and enjoying it is as if you are floating on the waters of the Arabian Gulf.
The Talise Spa is another activity you can enjoy at Burj Al Arab Pool. Massage and medical services in this complex are at a high level. Burj Al Arab's signature massage and a Caviar facial are only part of its luxury services. There are five pools and a private beach in Burj Al Arab, which satisfies every taste, along with yoga classes and other water sports.

High Tea Burj Al Arab
High tea Burj Al Arab is one of those enjoyable activities you must do. There are two excellent and lovely restaurants where you can enjoy drinking tea. Skyview lounge and Sahn Eddar are two examples of these attractive places. Skyview lounge is located on the 27th floor of this beautiful tower. Before booking, you can choose between a 5-option and a 7-option menu. You should prepare yourself for an exciting evening. Because high tea Burj Al Arab includes everything you can think of.

Sahn Eddar is another great Burj Al Arab high tea option. This luxurious place is located on the first floor. The decorations of this place in a Middle Eastern style will fascinate every viewer. Enjoy the fountains, marble facades, and torches, along with first-class tea, coffee, and sweets.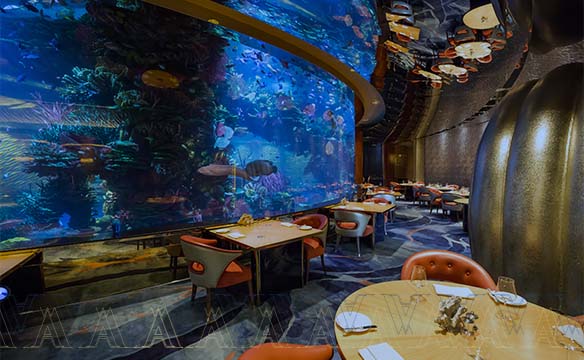 Guided Tour of Burj Al Arab
It may be interesting to know that you can enjoy the Guided Tour of Burj Al Arab. The duration of this tour is usually 90 minutes, and it is available three times a day, morning, sunset, and evening. A butler will guide this tour, and it is not enough to get to know the general aspects of this beautiful tower. You can enjoy this unique tour along with other entertainment of this tower.

Read more: Activities to Do in UAE: Jebel Hafeet

Apartments for Rent Near Burj Al Arab
If the beauty of Dubai and especially the Burj Al Arab has made you admire it, maybe you are considering renting an apartment in this beautiful city. So Al Majid Property Co. LLC is the place to look for your dream apartment. Our experienced consultants are ready to provide valuable solutions according to your needs.