Following the UAE National Day holiday, the emirate is transformed into a Christmas wonderland in preparation for the upcoming festivities. Dubai's streets have a mystically luminous glow, and the vibrant lights from the city's numerous events, activities, and performances almost immediately attract United Arab Emirates tourism.
While snow is unlikely to fall in the UAE's winter, the plethora of places to visit and things to do in Dubai and the UAE during Christmas promises an unforgettable end-of-year experience for you and your loved ones under the winter sun.
There are many things to do in Dubai during the festive events.

Winter months are ideal for doing activities in Dubai. For example, the world-renowned fireworks show, brightly lit streets, massive Christmas trees, live entertainment, and parties. These occasions combine modern and traditional cultural practices. In addition, there are plenty of activities to choose from, such as desert safaris, hot air balloon rides, water sports, and dune bashing.

Why Visit Dubai in the Winter?
Winter is the best time to do activities in Dubai. It's warm enough to bask in the sun and splash in the water, but most importantly, you can go for a walk, which is nearly impossible the rest of the year. When you think of Dubai, you might picture the scorching sun and desert sand. However, while some parts of the world experience freezing temperatures during the winter, the UAE is warm during this season. You can relax in the sun and have a good time.

Winter Wonderland activities in Dubai
Visiting one of these attractions will get you into the festive spirit of spring. This is a wonderful way to celebrate the holidays, but you can also shop for your loved ones, play games, and do other things. Discover these activities in Dubai that you must visit it.

Ski Dubai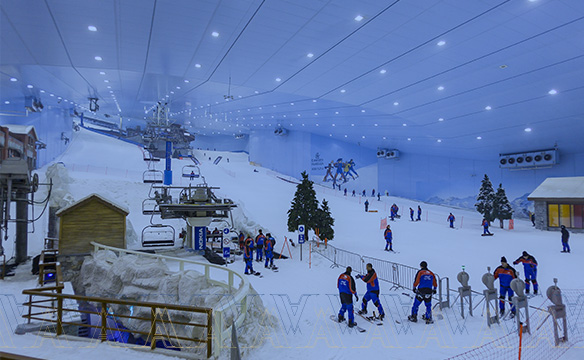 Do you wish for a white Christmas? Then, head to Ski Dubai, where there will be plenty of festive events. The entire family can visit Santa Claus and his cheerful elves in his grotto, sip the signature hot chocolate, and go Ice skating, and children can receive gifts and pose for photos with the big man in red.

Festive Market in Madinat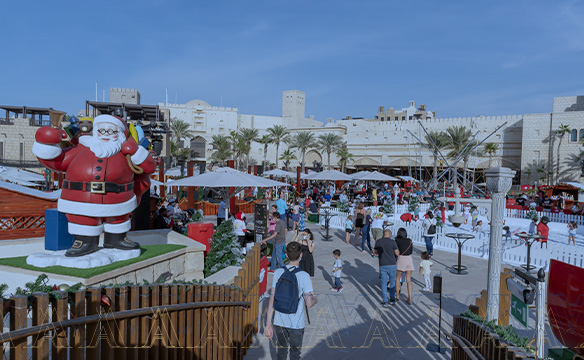 Head to Madinat Jumeirah for a dose of holiday cheer, thanks to the annual festive market, which promises to transport you to a winter wonderland. To keep the kids entertained, there's a traditional North Pole train and Santa's Grotto, and people of all ages can enjoy the ice rink and festive treats from the various food and beverage stalls. From roasted chestnuts to warmly spiced gingerbread and hot mulled drinks, you'll find all your seasonal favorites here, as well as plenty of stocking fillers and the opportunity to make some lovely memories.

The Burj Khalifa Fireworks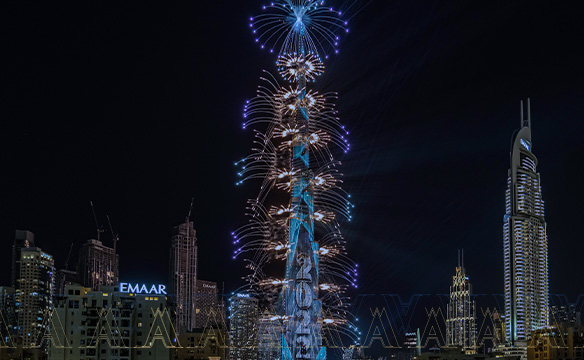 Dubai's firework displays are spectacles enjoyed by all, taking pyrotechnics to new heights when paired with one of the world's most iconic buildings, the Burj Khalifa.
It's for New Year's Eve celebrations to ring in 2022; you're guaranteed a truly remarkable display that will stay with you long after the festivities have ended. And, with the year-end fireworks being televised worldwide, why pass up the opportunity to see them in person?

New Year Under the Stars
Spending the end of 2022 outdoors is a good idea when there is an endless array of fireworks everywhere in the city. And what better way to enjoy the New Year than with dinner under the stars, in the fresh air and beautiful weather? Enjoy the fireworks while enjoying a gala dinner at the Jumeirah Beach Hotel, or book a table at one of the restaurants at Atlantis, The Palm.

Dubai Ice Rink Celebrations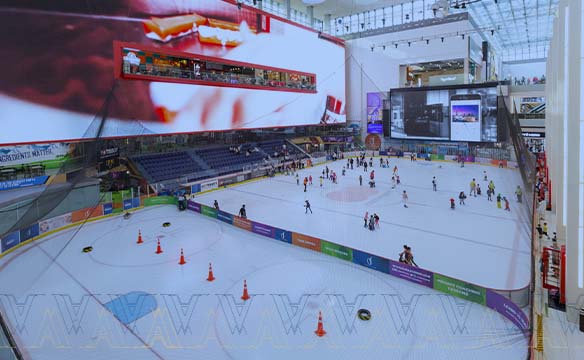 There's no better time to put on your skates than during the winter season, and there's no better place to do so than at The Dubai Mall's Olympic-size Dubai Ice Rink. The rink hosts a village market with various arts and crafts workshops and different holiday gifts and treats. You'll also be able to skate under snowfall, with themed music and entertainment.

Bab Al Shams
Get a winter wonderland right in the middle of the desert!
The festival will feature a massive 40-foot Christmas tree for beautiful photos, and Santa will also be in town! You can savor amazing Christmas treats and goodies at this stunning Christmas celebration in Dubai.

Read more: Explore 10 of the Most Astonishing Areas in Abu Dhabi

Luxury Apartments for Rent in Dubai
Global Village Dubai, an amalgamation of world culture, is the ideal place to celebrate New Year as you can witness New Year traditions from more than 75 countries worldwide. Moreover, you can stay there for the upcoming festivities and live in a luxurious, livable place. Check out the best places in Dubai to rent an apartment.

Jumeirah Beach Residence (JBR)
JBR is one of Dubai's most recognizable communities due to its beautiful beachfront location and abundance of world-class hotels. Tourists flock there yearly.
JBR is one of the best places to look for luxury apartments in Dubai. The Walk and Bluewaters offer numerous excellent dining options and numerous high-quality facilities.

Take a look at this building at JBR:

JAM Marina Residence is a 39-story residential building that offers stunning panoramic Marina canal and city views. Public transportation is available within the vicinity, such as the Dubai Metro Station, Tram, Various landmarks, high-end dining restaurants, and luxurious shopping malls are in the area. The location has gained the reputation of being the city's most trendy and happening district with attractiveness to reside. Dubai Marina Mall is just 800 meters away from the tower.

Business Bay
It is a trendy mixed-use district. It is situated alongside the gleaming waters of the Dubai Canal, which is adjacent to the city's most vibrant community, Downtown Dubai.

Take a look at this building at Business Bay:
A Tower is a geometric chic 49 floors high! Apart from the immediate proximity to The Dubai Mall and Burj Khalifa, the Tower is a few minutes away from Coca-Cola Arena, Dubai Opera, and City Walk.
The tower is easily accessible from the main Sheikh Zayed Road highway, connected readily to Dubai's other major urban centers by road and metro.
The apartments include open-plan living and dining, a panoramic kitchen, well-appointed bedrooms, large terraces, staff quarters, and a storage room. Floor-to-ceiling windows frame offer breathtaking views of Jumeirah Beach and Sheikh Zaid Road.

Rent your apartment to do Activities in Dubai Winter Wonderland
If you want to enjoy New Year's Eve 2022 in Dubai while staying in a rented apartment
Al Majid Real Estate Co. LLC, one of Dubai's leading real estate companies, offers extensive rental options.
Contact us today to find the best apartments for rent in Dubai with a 0% rental commission.