Dubai is a thriving metropolis renowned for its high-end real estate market and luxurious way of life. But not everyone has the means to reside in one of the city's upscale areas. Thank goodness, there are still regions where renting a house won't break the budget.

This blog will discuss the cheapest areas to rent in Dubai, making it simpler for families and people on a tight budget to locate a place to live in this exciting city. These reasonably priced districts provide a wide selection of housing alternatives to suit varied budgets and lifestyles, ranging from studio flats to roomy villas.

You may discover a rental that suits your requirements and budget, whether you're a young professional searching for a tiny studio or a family looking for a large home with many outdoor areas.

So, keep reading to learn about the top 10 Dubai affordable housing if you're thinking about moving there or looking to change locations.

Factors that Determine Rental Prices in Dubai


Cost:
The Affected by the cost of renting a home, many factors affect the rental prices of homes in Dubai. The most important of them is the location of the house.

Homes in desirable locations — such as downtown or near the beach — cost more than homes in less popular locations.

Type of property:
Studios and one-bedroom apartments are often the least expensive options, while two- and three-bedroom apartments, villas, or townhouses are much more expensive.

Rental costs are also affected by the condition of the property. Newly built or recently renovated properties cost more than old, poorly maintained buildings, for example.

Facilities:
The availability of facilities is one of the essential factors that affect rental prices in Dubai. The rental rates for properties with amenities such as swimming pools, gyms, and parking spaces are often higher than those without such features.

The cheapest neighborhoods to rent in Dubai are affected by market demand. As a result, prices frequently increase during times of high rental need and vice versa. As a result, when looking for a rental property, it is necessary to keep an eye on the market trends because the cost of renting a home may fluctuate depending on the market condition. It is, therefore, crucial to consider all elements that affect costs.

10 Cheapest Areas to Rent in Dubai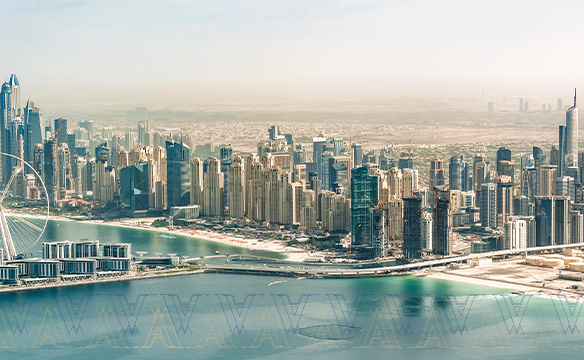 Dubai is a city noted for its luxurious homes and rich lifestyle, yet it also includes a lot of areas with relatively low rent. Many of these communities provide a range of services and housing choices, making them perfect for single people and families on a budget. Despite having reduced rental costs, these communities nevertheless offer easy access to shopping malls, supermarkets, medical centers, and parks, guaranteeing inhabitants can have convenient and pleasant lives. To meet the various requirements and interests of different people, these cheap neighborhoods provide a variety of housing alternatives, ranging from studios and one-bedroom flats to roomy villas and townhouses.

Consider examining some of these neighborhoods if you're looking for a more reasonable choice and the cheapest areas to rent in Dubai. Even while they might not have the same degree of status and elegance as other of the city's costlier districts, they nonetheless provide a cozy and convenient way of life at a lower cost.

1- Deira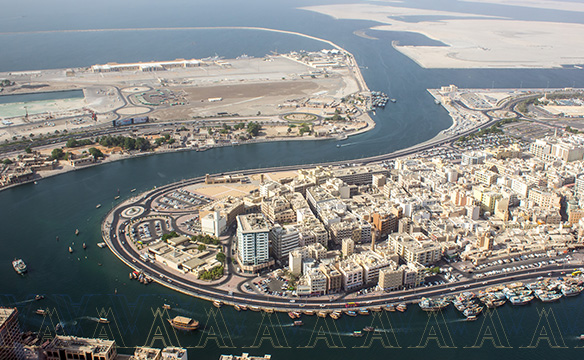 Deira is famous for its long cultural history, bustling streets, and traditional markets. Although it is located in the heart of Dubai, the rental rates are relatively low compared to other areas. Therefore, it has a wide range of housing options, such as studio apartments, one-bedroom apartments, and spacious villas.

Deira has a wide range of facilities, making it a practical and comfortable location to live. Many shopping malls, like Deira City Centre and Al Ghurair Centre, which provide a range of retail alternatives, are located there. Deira also boasts a number of parks, including the well-known Creek Park, which provides a variety of amenities, including kids' play areas, BBQ pits, and boat rentals. This place is a fantastic option for individuals searching for inexpensive Dubai Affordable Housing without compromising convenience and access to facilities because of its lively environment and handy location.

Check out our residential building in Deira: Al Maktoum Street Building

2- Dubai Production City (IMPZ)
Affordable renting choices are available in the rapidly expanding mixed-use Dubai Production City (IMPZ). Away from the bustle of the city, it is a well-planned neighborhood that offers inhabitants and cheap apartments in Dubai a tranquil and calm atmosphere. IMPZ provides a variety of studios and apartments to suit various lifestyles and price ranges. It is a well-liked solution for people and families searching for inexpensive living options without sacrificing quality.

The demands of its residents are met by a range of amenities provided by Dubai Production City (IMPZ). There are several supermarkets, shops, and eateries in the area, making it simple to get everyday requirements. It also boasts a number of parks and open areas that offer a tranquil setting for inhabitants to unwind and appreciate nature. The area is perfect for sports aficionados since it has a variety of sports facilities, including basketball courts, football fields, and tennis courts. Additionally, IMPZ has excellent access to public transit and major roads, making it simple for people to travel to work or explore the city. As a result, Dubai Production City (IMPZ) is among the cheapest areas to rent in Dubai.

3- International City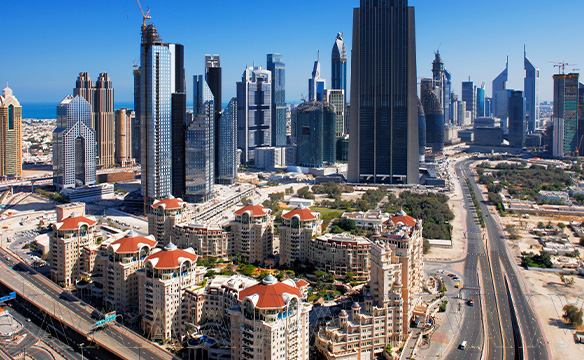 For a good reason, International City is at the top of the UAE's list of Cheap apartments in Dubai. You'll love the sense of community in this 8 million square meter area that is furnished with everything you could possibly need. This indicates that you won't have to compromise your quality of life. The project, which is known for being separated into ten intriguing clusters and encircled by beautiful greenery, was the idea of renowned developer Nakheel back in 2002. It is well-liked by singles due to the number of studio apartments for rent in Dubai, but it is also ideal for families due to the selection of roomy 2- and 3-bedroom flats. Architecture is one of the key aspects of the neighborhood that draws new inhabitants.

4- Jumeirah Village Circle (JVC)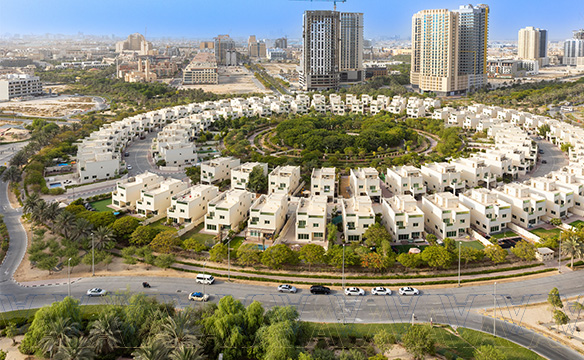 Jumeirah Village Circle (JVC) is a developing neighborhood in Dubai that provides a contemporary lifestyle. It is situated in the center of Dubai and is renowned for its opulent mansions and villas. JVC caters to the requirements of various lifestyles and budgets by providing a choice of Dubai affordable housing, including studio flats, one-bedroom apartments, and roomy villas. The neighborhood is ideally situated for families with children as it is close to several schools.

Jumeirah Village Circle is the best option if you're looking for calm and quiet in the neighborhood where you decide to rent the cheapest flats in Dubai. It's also one of the most well-liked residential areas for families and children. It was built by real estate tycoon Nakheel and had many amenities and services that enhance Dubai's living as it ought to be. To make your decision easier, Property Finder can help you find out all you need to know about Jumeirah Village Circle.

5- Dubai South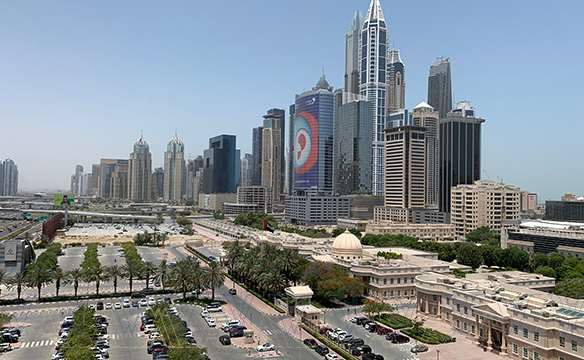 A future integrated metropolis is being planned for Dubai South, a region of the city that is now undergoing fast development. It is a master-planned development with a number of areas, including ones for logistics, commerce, and housing. The neighborhood offers Cheap apartments in Dubai, including apartments and villas, to meet the demands of various lifestyles and price ranges.

When fully operational, the world's largest airport will be housed in Dubai South, the largest single urban master development in Dubai, together with a multi-modal transportation infrastructure that connects land, air, and sea.

6- Dubai Investments Park (DIP)
Dubai Investments Park (DIP) is a significant mixed-use development located on the outskirts of Dubai. Dubai Investments Park (DIP) is primarily a business district. The residential parts of this area have a reasonable price. DIP was put into operation for the first time in 1997, and since then, new places have been continuously added to it. The characteristic greenery of this area has made it a wonderful place for shopping and investment. There is also a famous international school called Greenfield in this area which may attract many people.

The Dubai Investment Park metro station is located in the Green Community Village neighborhood and is connected to the Expo 2020 site by the Route 2020 branch line of the Dubai Metro, which runs over Expo Road (E77) and directly to the south of Dubai Investment Park. Across the E311 road to the west lies the Jebel Ali Industrial Area, while to the southwest is the Jebel Ali Free Zone Extension.

7- Damac Hills 2
DAMAC Hills 2 is a family area with one of Dubai's best rental prices. Living in this area, along with the reasonable price of residential units, allows you to take advantage of many amenities. The community's 30,000 square feet are impressive. The Trump International Golf Club Dubai enhances the beauty of the location, and since it has an 18-hole golf course, a clubhouse, a hotel, a pro shop, and restaurants, it is ideal for golfers.

8- Dubai Land
Dubai Land should also be included in the list of cheap places to let in Dubai. However, this area is located on the outskirts of the city. Therefore, transportation in this area may be difficult. However, highways to reach the city center in the shortest time have been built for this area. However, because it is located outside the city, it provides more amenities for people. Therefore, it is an excellent option for those who want to be more relaxed and comfortable. So, it's one of the cheapest areas to rent in Dubai.

9- Al Muhaisnah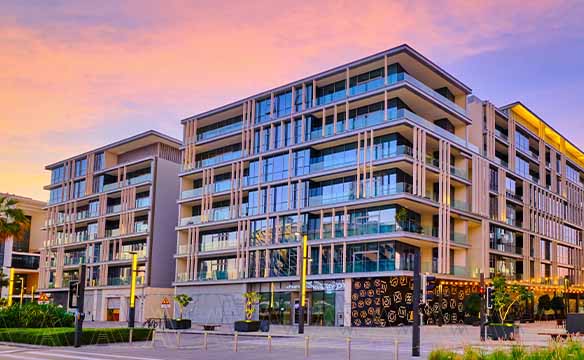 Al Muhaisnah is a booming residential neighborhood that provides a rare fusion of affordability and convenience. It is located in Dubai's busy Deira neighborhood. This area is renowned for its wide range of rental alternatives, from roomy villas to inviting flats, making it an excellent choice for people and families looking for nice lodging in Dubai affordable Housing.

Beyond the reasonable price, Al Muhaisnah has a number of parks and green areas that are great for strolls with the family or picnics, while the nearby eateries, shops, and retail stores make it simple to get everyday requirements.

10- Al Warsan
Al Warsan, a residential neighborhood in Dubai's east, provides a variety of reasonably priced housing alternatives. The region is widely known for its many apartment complexes that serve as some of the cheapest areas to rent in Dubai. Al Warsan is a well-liked destination for families with kids because it is home to various schools. Additionally, the neighborhood provides people with convenient access to a variety of facilities, including restaurants, shops, and supermarkets.

Other cheap areas to rent in Dubai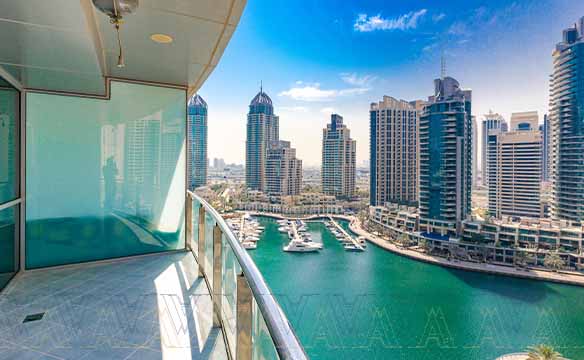 In addition to the aforementioned locations, there are many additional districts and housing options in search of Dubai Affordable Housing. Apartments and villas are available for rent in Al Qusais, which is in Dubai's eastern region. Al Nahda is another well-liked residential area that provides inexpensive renting possibilities, and it is situated close to the Sharjah border.

The expanding residential neighborhood of Dubai Silicon Oasis, which is close to Dubai Academic City, provides a variety of cheap housing alternatives. For individuals seeking inexpensive housing in Dubai, Dubai Silicon Oasis is a desirable residential area.

FAQs
Which area is the cheapest rent in Dubai?
Al Warsan is presently the cheapest area to rent in Dubai, according to the latest research.

How can I live cheaply in Dubai?
Al Warsan now houses Dubai affordable housing. To live inexpensively in Dubai, think about looking for economical housing in less expensive regions, relying on public transit rather than driving a car, grocery shopping at bargain stores, and taking advantage of free or inexpensive activities.

What documents do I need to provide to rent a property in Dubai?
To rent a property in Dubai, you will typically need to provide a copy of your passport with a valid visa or Emirates ID, a copy of your residency visa, a copy of your Emirates ID card, a rental application form, a security deposit, and a rental contract. Some landlords or real estate agents may also require additional documents, such as bank statements or proof of income.

How much is the security deposit when renting a property in Dubai?
When renting a home in Dubai, the security deposit usually equals one month's rent. Nevertheless, based on the property and the lease length, some landlords could demand a larger deposit. Before you sign the rental agreement, it's crucial to get the amount of the security deposit and any other terms and circumstances associated with it straight.

Are utilities included in the rental price in Dubai?
Utilities like power, water, and internet are frequently not included in Dubai rental prices. Typically, tenants must pay these bills separately, either by opening separate accounts with the utility companies or by paying the landlord for the actual consumption. Most rental homes in Dubai do not typically include utilities and cleaning services in the rental price. However, certain high-end residences and serviced apartments could. Before signing the rental agreement, discussing the utility setup and any related charges with the landlord or real estate agent is crucial.

What is the average rental increase percentage in Dubai each year?
Based on a variety of factors, including location, property type, and market conditions, the average rental increase% in Dubai fluctuates. Landlords are only allowed to raise the rent by a maximum of 5% for properties that are rented for less than 10% of the average market rent and a maximum of 20% for properties that are rented for less than 40% of the average market rent, according to rules established by the Dubai Land Department to control rent increases.

What is the typical length of a rental contract in Dubai?
Like any other country, renting a house in Dubai is usually annual. Unless you want to travel to this city for a short period of time as a tourist.

What is the minimum rent in Dubai?
No rules for minimum rent must be included in rental prices in Dubai. However, there are rules for determining house rent. In this way, the rent can increase to a certain extent.

Conclusion
Al Majid Property Co.LLC a great choice if you're seeking the cheapest areas to rent in Dubai. We can provide you access to some of the greatest homes in some of the most inexpensive parts of the city because of our considerable knowledge of the Dubai real estate market. We have a large selection of homes available, from studio flats to opulent villas, to fit every taste and price range. You may gain from our extensive real estate market expertise and dedication to giving our clients the finest service by working with Al Majid Property.

We provide knowledgeable guidance on every facet of renting a home in Dubai, from legal requirements to finance choices. Additionally, we have a group of incredibly knowledgeable and seasoned brokers that can help you discover the ideal house at the ideal price. You can be confident that you're receiving the greatest service and value for your money, thanks to years of expertise and a commitment to customer satisfaction.

So, don't hesitate to contact us right now to begin the process of renting the Dubai property of your dreams!