Sharjah, a bustling emirate in the United Arab Emirates, is home to a thriving healthcare sector that provides top-notch medical services to residents and visitors alike.

With a commitment to quality patient care, advanced technology, and skilled medical professionals, the hospitals in Sharjah are renowned for their excellence.

With that in mind, let's explore the top 10 hospitals in Sharjah, each making significant contributions to the healthcare landscape in the region.

But first, Let's see…

Important Factors to Consider When Selecting a Hospital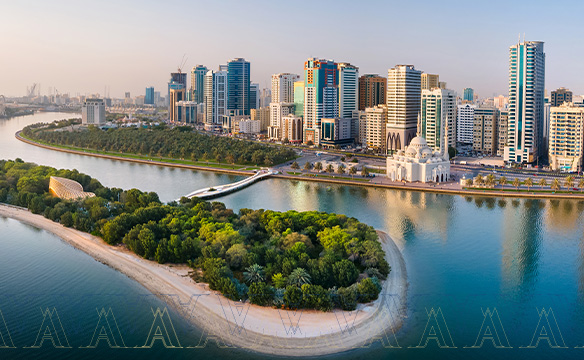 Selecting the right hospital is a crucial decision that can significantly impact your healthcare experience and outcomes. To make an informed choice, consider the following key factors:

- Location
Opt for a hospital that is conveniently located, especially for emergencies or regular visits. Accessibility can greatly affect the ease of seeking medical care.

Read also: Top 10 Hospitals in Dubai

- Specialties and Services
Evaluate the hospital's range of specialties and services. Ensure they offer the medical expertise and treatments you may need, whether it's cardiac care, orthopedics, or maternity services.

- Accreditations and Certifications
Look for hospitals that have relevant accreditations and certifications. These validate the hospital's commitment to meeting specific quality and safety standards.

- Quality of Care
Research the hospital's reputation for quality care. Online reviews, patient testimonials, and medical outcomes data can provide valuable insights.

- Medical Team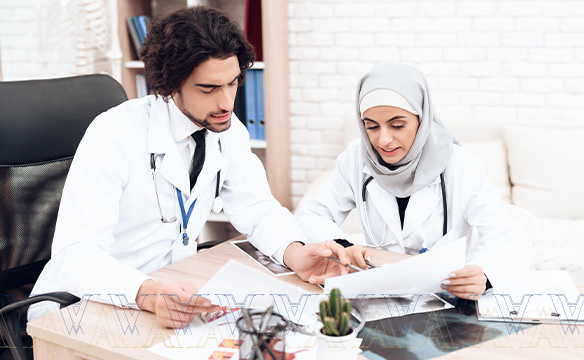 Assess the qualifications and experience of the medical staff, including doctors, nurses, and specialists. The expertise of the healthcare professionals is critical.

- Facility and Technology
If possible, visit the hospital to evaluate its cleanliness, organization, and overall condition. State-of-the-art medical equipment and technology can enhance diagnostic accuracy and treatment options.

- Insurance Coverage
Check if the hospital accepts your health insurance plan to minimize out-of-pocket expenses. Inquire about the hospital's billing and payment policies.

- Patient Experience
Consider factors like waiting times, appointment scheduling, and the hospital's approach to patient-centered care. A positive patient experience can ease the stress of medical treatment.

- Safety Measures


Investigate the hospital's safety protocols, infection control practices, and patient outcomes. Safety is paramount in healthcare settings.

- Language Support and Multilingual Staff
When selecting a hospital, language support and multilingual staff are vital for effective communication and ensuring that patients from diverse backgrounds can access quality care and understand medical instructions.

Read also: Top 10 Areas to Live in Sharjah

- Cost
While quality of care should be the priority, it's essential to understand the hospital's pricing structure and ensure it aligns with your budget and financial situation.

- Referrals
Seek recommendations from trusted healthcare professionals, friends, or family members who have had positive experiences at a particular hospital.

- Emergency Services
If you require emergency care frequently, consider the hospital's emergency department's reputation and capabilities.

Top 10 Hospitals in Sharjah
1- Al Qassimi Hospital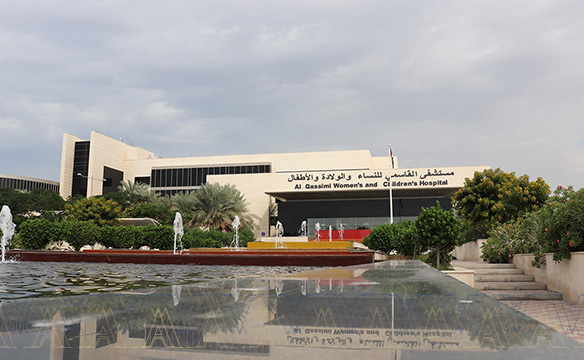 Location:
Wasit St., Al Khazamiya, Mujahidin Suburb, Sharjah

Overview:
Al Qassimi Hospital is a flagship medical facility in Sharjah, renowned for its state-of-the-art equipment and comprehensive medical services. With a focus on patient-centric care, the hospital provides a wide range of specialties, including cardiology, neurology, and orthopedics.

2- Al Zahra Hospital Sharjah
Location:
Al Zahra St., Near Clock Tower, Al Musalla, Sharjah

Overview:
Formerly known as Al Zahra Hospital, NMC Royal Hospital is a leading private healthcare provider known for its world-class medical expertise and advanced technology. The hospital offers a wide spectrum of medical services, from primary care to complex surgeries.

Read also: 10 Cheapest Areas to Rent in Sharjah

3- University Hospital Sharjah (UHS)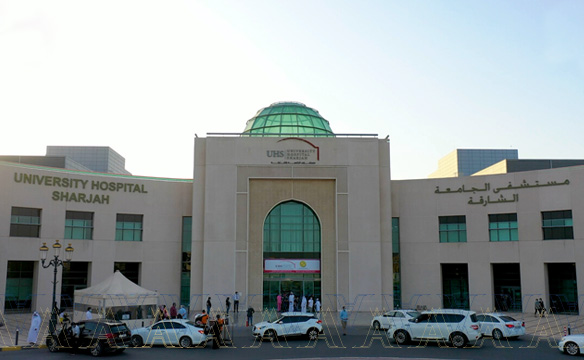 Location:
University City, University Street, Sharjah

Overview:
UHS is a multidisciplinary hospital affiliated with the University of Sharjah. It boasts a diverse range of medical specialties and is dedicated to medical education and research.

4- Saudi German Hospital Sharjah
Location:
Intersection of Mohammed Bin Saqr, Sheikh Mohammed Bin Saqr Al Qasimi St, opposite Al Quds Mosque, Al Gulai'aah, Sharjah

Overview:
Saudi German Hospital Sharjah is part of the prestigious Saudi German Hospitals Group. It is recognized for its commitment to quality healthcare and advanced medical infrastructure.

5- Oriana Hospital Sharjah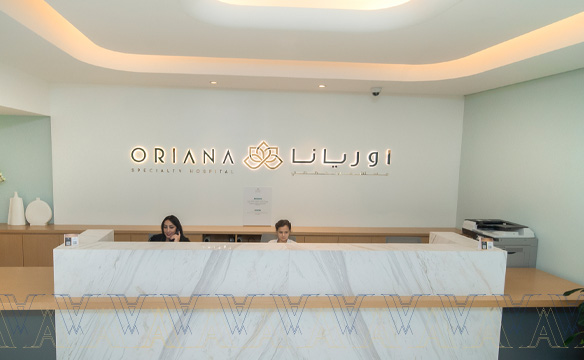 Location:
New Al Taawun Rd, Manazil Tower 2, 1704, Munazil, Sharjah

Overview:
Oriana Hospital Sharjah provides patients with primary medical care and boasts skilled medical staff and cutting-edge equipment. Oriana Hospital offers top-notch care at affordable pricing, making it one of Sharjah's most affordable medical facilities.

A respiratory unit, cardiology, pulmonology, radiology, and other specialties, such as plastic and aesthetic surgery, are all featured in this 30,000 -square -foot medical center. As the greatest dental facility in Sharjah among its peers, you can also receive dental treatments there for a beautiful smile.

6- Sharjah Corniche Hospital
Location:
Corniche Plaza II, 10th Floor, Opposite Marbella resort, Buhairah, Corniche St., Sharjah

Overview:
Sharjah Corniche Hospital is a state-of-the-art facility dedicated to women's and children's health. It offers specialized services in maternity, neonatology, and pediatric care.

7- Zulekha Hospital Sharjah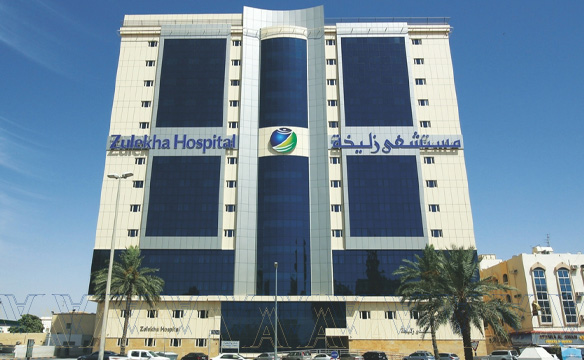 Location:
Al Zahra Street, Al Nasserya, Sharjah

Overview:
Zulekha Hospital Sharjah is a well-established healthcare provider offering a wide range of services, including obstetrics, gynecology, and pediatrics. It's known for its compassionate patient care.

8- Burjeel Hospital Sharjah
Location:
Al Kuwait St., Al Faiha, Halwan Suburb, Sharjah

Overview:
Out of the many hospitals run by VPS Healthcare Group, Burjeel Hospital is setting new standards in the healthcare sector. Additionally, Burjeel Hospital has cutting-edge diagnostic tools to provide top-notch medical care.

This hospital offers a cozy environment and individualized care thanks to its 75 beds, 24-hour emergency, and laboratory facilities. Bariatric surgery, joint replacement, sports medicine, orthopedics, neurosciences, and child care are some of the important divisions.

9- Al Saha Al Shifa Hospital Sharjah
Location:
Office # 307, 3rd Floor, Rolla Mall, Sharjah

Overview:
Al Shifa Hospital in Sharjah is a unique player in the healthcare sector due to its patient-centric philosophy. Patients receive excellent care thanks to a wide range of surgical, interventional, and diagnostic techniques.

The nurses and medical professionals at Al Shifa Hospital make sure the patient is at ease. Al Shifa Hospital offers services in ENT, gynecology, urology, orthopedics, dentistry, laparoscopic surgery, and other fields.

10- Thumbay Hospital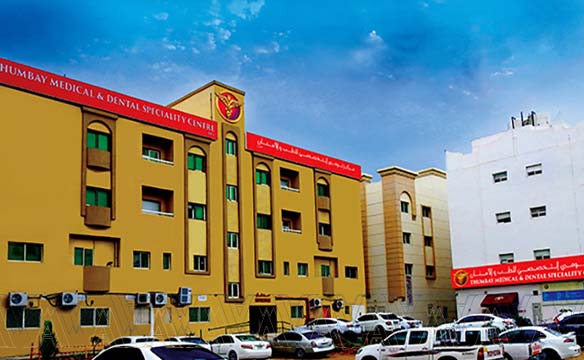 Location:
Near National Paint Roundabout, Industrial Area, Sharjah

Overview:
Thumbay Hospital is a renowned private healthcare institution offering a wide spectrum of medical services. It's known for its modern facilities and skilled medical professionals.

Read also: Discover UAE Map, Its Seven Emirates, And Bordering Countries

FAQs
Which is the best hospital in Sharjah for expats?
Zulekha Hospital, Al Qassimi Hospital, and University Hospital Sharjah are some reputable options for expats; each is renowned for a particular field of competence.

Are government hospitals free in Sharjah?
No, Sharjah's government hospitals are not totally free. Patients are typically compelled to pay small fees for consultations, treatments, and drugs despite the fact that they provide locals with subsidized healthcare services. Government healthcare is now more widely available to the general public thanks to the fees, which are much lower than those in private institutions.

What is the benefit of health card in Sharjah?
Residents of Sharjah have access to discounted medical care at public clinics and hospitals thanks to health cards. It contributes to lower medical consultation, treatment, and prescription costs, lowering the cost of healthcare. Residents often receive health cards, which are necessary to access the public healthcare system's services.

Is medical treatment good in Sharjah?
Yes, Sharjah offers top-notch medical care. The emirate is home to cutting-edge medical facilities, expert medical staff, and contemporary hospitals. An extensive range of medical treatments, from standard check-ups to intricate procedures, are provided by both public and private hospitals. Sharjah has many healthcare facilities that follow international standards and certifications, guaranteeing that locals and visitors get top-notch medical care in a range of specializations.

What happens if you can't pay your hospital bill in Sharjah?
If you're having trouble paying your Sharjah hospital bill, you should inform the hospital's billing office as soon as possible. In Sharjah, hospitals frequently collaborate with patients to set up payment schedules or provide financial help choices depending on need. However, since unpaid medical bills may have an impact on your credit score and financial situation, it's imperative to take immediate action to avoid any legal or credit-related repercussions.

How do I choose the best hospital in Sharjah for my medical needs?
You should consider factors like location, specializations offered, accreditations, quality of care, medical team experience, facilities and technology, insurance coverage, patient experience, safety precautions, and pricing when selecting the finest hospital in Sharjah for your medical requirements. You can make an informed selection with the aid of research and recommendations from reliable sources. It's critical to match your unique healthcare needs and preferences with the hospital's services and reputation.

What languages are commonly spoken by medical staff in the top hospitals in Sharjah?
Arabic and English are frequently spoken by medical professionals in Sharjah's best hospitals. When speaking with foreign patients and visitors, English is frequently the first language used in healthcare facilities. As the official language of the United Arab Emirates and the language used for local patients and documentation, Arabic is very widely spoken. In Sharjah, there are many bilingual medical personnel who can effectively communicate with a wide range of patients.

Are the hospitals in Sharjah equipped with advanced medical technologies and facilities?
Yes, Sharjah's hospitals are furnished with cutting-edge medical equipment. Sharjah's healthcare industry has made considerable investments in cutting-edge machinery and technology in order to offer patients top-notch medical care. These hospitals provide a wide variety of specialist treatments, such as modern laboratory testing, robotic surgery, diagnostic imaging, and more. Patients can anticipate having access to cutting-edge medical facilities and equipment for all their healthcare requirements.

Wrap Up
In a nutshell, Sharjah's healthcare sector continues to thrive, thanks to top-notch hospitals. By carefully considering the aforementioned factors, you can make an informed decision when selecting a hospital that best meets your healthcare needs and preferences.

Remember that your choice can significantly impact your overall healthcare journey, so take the time to research and assess your options.

Whether you're seeking specialized medical care or general healthcare services, these top institutions are committed to providing excellence in patient care, making Sharjah a hub for quality healthcare in the region.